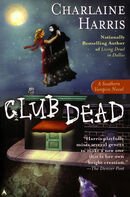 I flew through this book, finishing it in less than a day! When I first started reading it, and found out that Sookie's vampire lover was missing, then that he was going to leave her I thought... oh great, there goes the story... But I was impressed with Sookie's resolve to go ahead and find him, and then stand up for herself and not fall back into his arms... I have always been pleasantly surprised that she is able to say enough is enough and cut her vampire ties, even if it only lasts for a few weeks.
I have to say I was hoping that she would actually have a relationship with her super hot werewolf escort...maybe later...
Learned: I FINALLY figured out who Bubba was... I did figure it out before it was blatantly said in this book. Bubba is the VERY famous singer who upon his death bed was changed into a vampire, but the crossover didn't go so well, and well he is a bit odd... maybe dense... but the point is for the last two books I couldn't picture who he actually was in his former life, but now I totally get it!